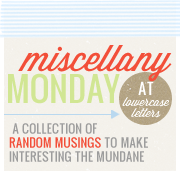 1.
So lately I've been having a lot of talks with myself...I do that often (and blog about it too). I've been thinking about all of the things I want to do...get organized, master sewing, really take off with my Stampin Up! business, etc. But I'm constantly thinking about these things and listing about them and blogging about them, but I need to really get down and dirty with it and take action. I need to concentrate on my
word of 2010
. I'm always reading blogs and thinking "I want to do that" and I CAN. This change in routine has thrown me for a loop and I've realized some changes that need to be made...not stopping procrastinating, be more purposeful, take deep breaths, tackle little things at a time... It's time to bust a move!
2.
I have to admit something...I've never had a Pumpkin Spice latte...can we still be friends? I am going to try one this Fall because I hear so much about it and it sounds yummy. I believe they start selling them on Wednesday.
3.
The craft fair didn't go so well :( The main purpose of the event was a Back to School Bash, so everyone was mainly over by the games and rides instead of the vendor area. Overall it was a good experience and I really enjoyed hanging out with my mom and Rondell for the afternoon (thanks for your help and support guys!). And my friend Lyndsey and her family stopped by to support me as well and that meant a lot to me.
It is also nice to have my evenings back now and not have to spend them making dozens of cards at a time...making all of those cards took up a lot of time. I'll post pictures of the event tomorrow.
4.
Where did August go? Just sayin.