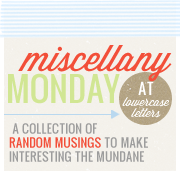 1.

Chicken "pops"

and a

Thomas Party

...My Caleb had the chicken pox (or "pops" as he calls it). We had no idea because it did not itch him at all. We finally took him to the doctor who confirmed that it was chicken pox but that he was over it. On Saturday Caleb got his hair cut and it was crazy to see that he even had them in his head...
Luckily he was OK to still have his party because he was not contagious. I'm pretty sure he had a good time (if you missed his birthday post you can see it here):
A new bike from Gramma Lee.
Waiting for his friends to arrive...he was so excited.
Cousin Maiya and Maw Maw & Paw Paw.
I love seeing the joy on his face.
Thanks for the presents :)
2.

Weekly challenge

...I put on my sidebar a new challenge that I'm determined to participate in. This week's challenge is creating a Home Management Binder, which is something I've wanted to do for a while now. You can read all about it here. Join us!
3.

Hot date

...yes, you heard me...I have a hot date, with a fine man! Rondell and I are going to see one of our favorite music artists on Thursday night. We're getting a sitter (AKA Maw Maw & Paw Paw) and dressing up a little and going out on the town. The information on the show says that it lasts until 1am...I can't remember that last time I was up until 1am. I can't wait!!!
4.

Sleeping or praying

...funny Jamison story. She is tired a lot and falls asleep often in the car. One day I told her she looked tired and as usual she denied it. Well, a few minutes later she was asleep. When she woke up I told her she had fallen asleep and she said "no Mommy, I was praying." Classic.