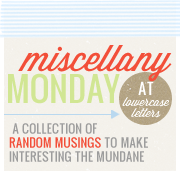 1. Memorization

...I've decided to join Beth Moore's Scripture Memory Team. You can find more information about it here. Basically, every two weeks you pick a verse of your choice to memorize. You can either pick a single verse or a passage (Paige has chosen a beautiful passage...this post really inspired me). I was really encouraged during the time that Jamison and I memorized the verses about Jesus' birth (here's the video) and I can't wait to dive into more memorization. Here's the verse I've chosen for the next two weeks:
Restore to me the joy of your salvation, and uphold me with a willing spirit. Psalm 51:12 (ESV)
2. The Big Day

...is almost here. One of my favorite days of the year is Valentine's Day. I enjoy sharing a little love with people and I usually try and buy little thoughtful gifts for people. I'm working on my list of things I either want to make or buy people. I also need to look into some fun crafts to do with the kids. My blog friend Kelli featured some cool cupcakes that I really think we'd enjoy making. Do you love

Valentine's Day

?
3. Speaking of Love

...I've been really challenged this week by a challenge from our pastor. We're going through 1 Corinthians and we're on chapter 13...the

love

chapter. Because of this, he's come up with a Love Dare for us to participate in...something to do each day to show love the way Christ shows love. Most of them are easy for me to do...write someone a note, do something nice for someone unexpectedly. The part where I hit a wall is when I'm supposed to show love to a person that I have a hard time loving...praying for an enemy or turning the other cheek when you feel wronged. These are hard. My friend Tonya had some good encouraging words...see them as Christ sees them, not how we see them. I need Jesus glasses! I appreciate this dare and how it's opened my eyes to what's in my heart.
4. Big Boy

...my Caleb. In two weeks he's going to be 4...FOUR. Where did the time go?
5. Cookie Time

...Jamison is working her first Girl Scout cookie sale. She is doing so well...going door to door and keeping track of the number of boxes that she sells. I think this is a great activity for her...not just because we get to order those yummy Thin Mints, but because it's allowing her to come out of her shell a little and learn responsibility. I can't wait to see how she grows from this experience. Oh, and if you're local and need a box just send me an email :)