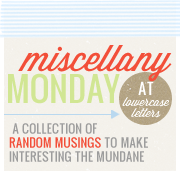 1. Genuine Support

...I know I've said this before but I love the blog world. I have met some amazing people who I have come to truly consider friends. Recently, I read about Edie and how she and her family lost everything in a house fire. A few days later I saw around blogland that people were posting encouraging posts on her blog...look at it here. How awesome is that...that people around the country (and maybe world) all came together to give her love and encouragement during a very difficult time in her life. I think about all of the people, me included, who are lifting her up in prayer. Bloggers...what a blessing.
2. Chore Chart

...One of my goals this year is to be better about keeping order in my home. Not that I think things have to be spotless all of the time because that's not realistic, but I do feel that my home should be welcoming to my family and ready for company most of the time. My friend Katie (who really does have a great blog...I'm so excited for her) talked about a chore chart and I'm going to try it. She talked about it here and she says that it's really working for her. Check it out and if you try it let me know how you do.
3. New Look

...Over the next few weeks I'm going to work on redesigning my blog. Katie walked me through making a new header using Picasa (you can find the tutorial here) and it was a lot easier than I thought. So, I need your help and all of the tips that you have up your sleeves. I have the information on the header and now I'm trying to figure out how to design the actual page. I'd like the main page to be white with a

yellow

(of course) background...but that's that part I don't know how to do. Tips?
4. Special Delivery x2

...Two great things came in the mail last week...both equally exciting.
My 2011 planner arrived! I can't even tell you how giddy this makes me. This is what keeps me in order, where I can keep all of things that I need to remember. I talked about it before here and my blog friend Genn talked about hers here.
Much of the planner is the same as it was last year but one addition that I like is this little folder. Now when I have receipts that I need to hang onto or my stamps I have a great place for them. If you haven't checked out this planner you must...it's not too late. Just go to Erin Condren's site.
My new Bible arrived. I decided to use the ESV to read through the entire Bible this year because I truly love this translation. I love that it's a word-for-word translation and challenges me to read deeper into His Word. Since it is a challenge I decided that it might be wise to use a Study Bible and I came across this one in my search.
It has a ton of charts, maps and detailed descriptions. That helps me since I'm very visual.
Almost every verse is accompanied by study notes.
I am that person who loves to write in my Bible and I can't wait to fill up these pages with thoughts and points that I come across. I do however need to make sure that I'm spending my best time while reading His Word, giving Him my best time. Not reading while the TV is on and the kids are running around but at a time when I can give Him my full attention because I don't want to miss anything He has to say to me.