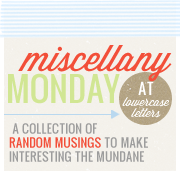 1. A Week Late
...and probably a few dollars short. See, I don't like basketball...mainly the NBA. I never watch it (although I will watch the slam dunk contest during the all-star game) and I rarely follow what is going on with the players. Well yesterday Rondell was watching a game and I was sitting next to him. I noticed that a player was now playing for a different team and I commented about it. Rondell looked at me, patted my leg and told me I was
so
behind. So I'm thinking that maybe this happened last year or something. Nope...last week...I was a
week
late, but I guess in the basketball world that's a lot.
2. The Cosby Show
...classic show. I love Bill Cosby and his show is one of my favorites. This weekend Rondell and Jamison watched it most of Saturday evening. They laughed and laughed and it was great to watch them enjoying something together. Last night we ended up going through Netflix to show Jamison the classic anniversary episode where the entire family performed for the grandparents as well as the very first episode. I think she's hooked just like we all were on Thursday nights in the 80's.
3. Chef Boy RD
...that's my new cook. I think I've figured it out...I don't like to cook that much (I don't dislike it, I just don't ooh and aahh about doing it). I love new recipes and good food, but I don't have that strong desire to be in the kitchen. I have discovered lately that Rondell DOES and this might just be the solution for my menu slump. He made chili the other night and it was SO much better than the chili I make. So, I think that's it...Rondell will be the cook (are you reading this Ron?).
4. Memory verse
...verse 5 (but really verse 3 for me). For the last 4 weeks I have been meditating on and memorizing Isaiah 40:28-29:
Have you not known? Have you not heard. The L

ORD

is the everlasting God, the Creator of the ends of the earth. He does not faint or grow weary; his understanding is unsearchable. He gives power to the faint, and to him who has no might he increases strength.
My next memory verses are from
Lamentations 3:22-23:
The steadfast love of the L

ORD

never ceases; his mercies never come to an end; they are new every morning; great is your faithfulness.