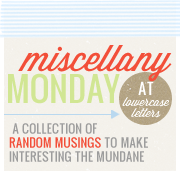 1. Where does the time go
...it's already Tuesday and I missed posting yesterday. All weekend I thought about my post for
mm
but never got around to putting it together. Sunday Rondell and I were able to spend the entire day together because the kids were with is mom/stepdad until yesterday. We made lunch (I even made my own taco seasoning) and caught up on our shows...we are SO behind on shows right now. It was nice to be able to hang out with my favorite guy.
2. Snow, snow go away
...and it would be OK if you didn't come back. Yesterday started off as a rainy day and ended with ice and snow. I should be used to this since I've lived in Ohio all of my life but every year about this time I get overly anxious for Spring. The weather was so nice last week and it was so nice to get outside and enjoy some fresh air, but now we're back to big coats and being trapped inside. Come on
Spring
!
3. Late night TV
...I've realized something about myself. I have to find a show to turn on before I go to bed. The strange thing about that is that I know I'm not going to watch it because I'm going to sleep so why does it matter what's on the TV. But still, every night I look for something on the TV guide to "watch" before going to sleep.
4. Pushing through
...Lately I've had a hard time going to BSF on Monday nights. I have missed a couple of nights in the past few weeks and that's not like me. Maybe it's because of the cold weather or just being tired at the end of Monday. Last night was just as hard, but I got encouragement from my Jamison to go. She told me that it's important for me to go and learn more about God. Truth spoken from the sweetest source. Once I was there, at BSF, it was wonderful...discussing His Word and bonding with other women. I thank God for using Jamison to motivate me to push through :)