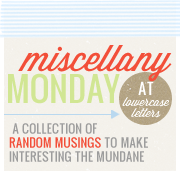 1. Football, food & commercials

...did you watch? I half watched because I wasn't super enthused about either team. We did have some yummy food (just me and Ron...no parties)...pulled pork, homemade mac & cheese (I think some of my best yet) and meatballs. One of my favorites parts about the Super Bowl is the commercials...I guess I love stupid humor.
2. Weekend posting

...I rarely do it. I try and take a break from blogging on the weekends and soak up time with my family. I do get in time every once in a while, during nap or if Rondell has to work late on a Saturday night. This weekend I put up a major post..my Home Management Binder. You have to check it out (here). You know how there are just some posts that you're really excited about...this is one of mine. AND I really think the binder will be a lot of help to keep us organized. I'm on a mission :)
3. Cookie Champs

...I think. I have not officially heard but I think that Jamison sold the most cookies in her troop. We went to a bowling event yesterday with her troop and a few moms mentioned it, that she was probably the top seller. I'm so excited for her (and really nervous about how to deliver all of those cookies!). She sold 423!
4. My Favorite Day

...it's just one week away! I love, love Valentine's Day. Jamison and I have started making the Valentine's for her classmates and Girl Scouts. I have started on a little something for my friend Lyndsey too...I hope she likes it. Next week I'll show you the little things that I'm making...including the coolest bookmarks.
5. Feedback

...just curious. What are your thoughts on a second grader being grounded because of a report card. Not Jamison, one of her classmates. For some reason it struck me as odd, but maybe it's normal. Thoughts?