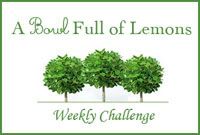 Toni has another challenge that is just what I need...making a recipe binder. Just like how I had been wanting to create a Home Management Binder (here) for a long time, I've wanted to create a recipe binder as well. I have recipes all over the place...printed sheet from the web, recipes that people have written down for me, various recipes cards and it's time to put them all in one place. A while ago I made a binder for all of my Kraft Food recipes and I love it (you can see it here).
So, I need to come up with my catagories. I'm thinking of:
Appetizers (because I love my appetizers)
I'm also going to have to come up with a cute cover...maybe make a picture collage of different recipes that I've made.
I'll be working on this all week and will probably post about it on Saturday (ooh, another weekend post...I'm living on the edge!).