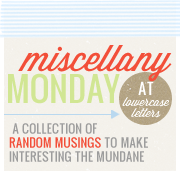 1.
I love Michael Jackson's music and I have one of his greatest hits CDs. It gets me all livened up if I'm feeling a little sleepy on my way into work or if I just need a pick-me up. But last week I realized that in a lot of his songs I have no idea what he's saying :)
2.
I've toyed with the idea to word verify or not to word verify. Right now I have the word verification turned on but I always wonder how much spam you really get without it. Hmmm...
3.
Lately I've been keeping this post in draft status because I am
that
forgetful. I'll think of something random and then put "notes" in a draft so that I will remember to post about it. Am I the only one who does this?
4.
I'm starting to be a little over Facebook. I used to be on it all of the time and now I don't get on often at all unless it's to get in touch with someone who I know is on there all of the time. I'm not sure what it is...maybe because I put a lot into my blog and I don't want to repeat the same thing on FB.
5.
There are only two more weeks till school...
TWO WEEKS!
6.
I visited some friends in their new home this weekend...and let's just say that I'm not proud of the envy that followed. It was beautiful and spacious and there was a room upstairs that I could picture as my stamping/craft room. Maybe Dave Ramsey and I need to become friends...