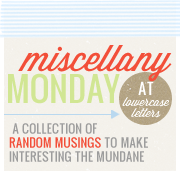 Whew...a week of VBS and then a weekend of company wore me out! I am a little late with my miscellany monday, but better late than never.
1. THE Ohio State Fair.
Well, fair time has come and gone. This year was fun, but really, really
hot
. Usually we go in, we eat, we leave, but this year we planned for a little exploration. We did not get as far as we would have liked because of the heat, but it was still a good time.
My cousin came back this year (without her BFF, sniff) and this time she brought her husband:
They are so cute...almost as cute as their ham of a daughter:
Amber has been coming to visit every summer for the last eight years (you can see
here
and
here
where we have gone to the fair before). It is a tradition I hope will continue for years to come :)
2. Sweet Friends.
This year we also got to take a special friend to the fair with us...my friend Marja's daughter Mila. We adore this little girl and she fits right in when she is with us.
This is a sweet picture of Mila and Jamison at the fair. The true bond however is between Mila and Caleb...they are so cute together & play well together. While at the fair I took a picture of them holding hands on my phone (and as soon as I figure out how to post it I will!).
3. Date Night.
Our church is not close to our house, so while the kids were at VBS last week Rondell & I took advantage and went on a date one of those nights.
Rondell really wanted frozen custard so we went here:
I must agree that it was a good choice!
4. You know you have been married a long time when...
Your husband lets you take tons of pictures of him so you can play around with your camera...look at his patience:
AND you can eat things like this and not be embarrassed: