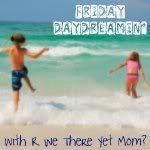 I am joining in with my friend Becca (best blogging friend EVER, wink) to dream about vacation. I have no problems dreaming about vacation...it is a treasured time.
This picture reminds me of my favorite vacation spot...Destin, Florida. We have gone there for several years now and we absolutely love it. It gives us time to relax as a family, enjoy the sunshine & eat yummy food.
Looking at Jamison playing is such a joy because I know that she is enjoying herself to the fullest...AND who could resist this view of the water.
Till next time Destin :)