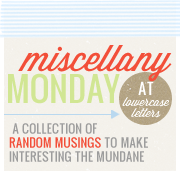 10.1...How cool is it that yesterday was 10-10-10. Jamison has to document the books that she reads from school and it has to be dated. She read to me yesterday and when I wrote the date we both giggled...it's the little things. Next year we'll have 11-11-11 and that's my friend Marja's birthday...I think she should do something extra fun because how cool is that!
10.2...Have you been to the check out at Old Navy lately? I just went the other day to exchange something for Jamison and was amazed at all of the random stuff they have at the check out...coloring books, gum, tissue, etc. When did Old Navy also become the corner drug store?
10.3...So remember when I told you that we bought Alicia Keys for Jamison for her birthday? Well now I'm wondering who is enjoying it more, me or Jamison. We keep it in the car so when I'm driving alone I catch myself jammin' along!
10.4 Rondell and I are a little picky about our apple cider. Not all cider is created equal you know. We usually drive to our favorite farm store for cider (which is about a 30 minute drive). It is SO worth the drive to have our favorite cider. Do you go to a special place for cider?
10.5...Ohio State is #1 is all 3 polls...
GO
BUCKS
!!!