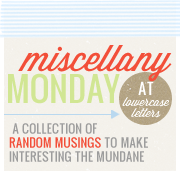 1. Happy Birthday to me
...Two weeks from today, November 8, is my 34th birthday. My favorite color is yellow, I like sun catchers, dolphins, and Coca Cola...just sayin' :)
2.
We have cable, yet it never fails that there are times when there is nothing on...
nothing
. This weekend I was flipping through channels and couldn't find one thing that I wanted to watch...maybe I should have used it as a hint to clean ;)
3. Speaking of TV
...there's a new channel now called The Hub. It has the best shows...Fraggle Rock, the original Transformers, Wonder Years, Doogie Howser, Laverne & Shirley. I have enjoyed taking a step back in time and watching shows that I loved when I was a kid. Jamison and Caleb have been watching Fraggle Rock with me and it has made for some great bonding time.
4. Funny Jamison
...Caleb likes attention and this morning was no exception. He was on the floor pretending to sulk and when I called his name he didn't respond. Then Jamison called his name...no response. Then Jamison said "Thomas" and he hopped up super fast. Jamison laughed like "gotcha." It was just the laugh I need to start a Monday morning.