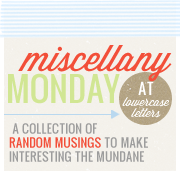 1. Dear person-who-left-his-car-in-front-of-our-neighbors-house:

I'm sorry I had to call the police to finally have your car taken away after being there for three weeks. Being that you left the windows down should have been our first clue that you probably didn't care too much about your car...since it has rained quite a few times and your car was parked under a tree that has acorns falling left and right. Then there was the realization that you removed the license tag...hmmm. So, we had to bring in the authorities and now our street is back to normal.
2. Dear Josh B:

Thanks for making the best brisket I have ever tasted...it really does bring our Small Group together for one tasty meal. It is always so tender and smoked to perfection. Till next year...
3. Dear students in Jamison's class:

I have read the letters you wrote to her over and over and teared up a little each time. Thank you for showing Jamison all the things that make her special. I will be sure to put each letter in a special binder so that we can cherish them for years to come.
4. Dear sewing machine:

I have been a terrible owner and I am going to make it up to you. I am determined to make something in the next few weeks. I will tell you that I've been calling JoAnn weekly to see if there is a sale on it's classes, but not luck yet. We will make great things together...promise. Don't give up on me yet.