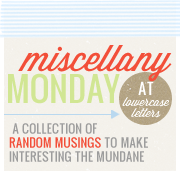 1. I had a jewelry party this weekend and it was such a fun time. I'm always nervous to have those kind of parties for fear that no one will come, but it was a great turn out. I made vegetable pizza, buffalo chicken dip and these (and by me I mean Rondell...he's the baker in the family). It was nice to have a little get together, chat, eat, and look at cute jewelry.
2. Do you know that it's October already! I realize that I need to start working on my Christmas cards...yes, Christmas cards. Some people have theirs done already, so I'm behind. Since I made them it takes a little bit of time to get them done.
3. I am officially the mom of an elementary school student...fundraisers have begun. Between Girl Scouts and the PTA my family and friends may be tired of seeing me :) This week we got a packet for wrapping paper.
4. Rainy Sunday naps really are the best!