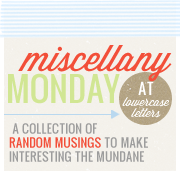 1.
I'm really late to the party today! I haven't really been on the computer all weekend...and it's been kind of nice. I also haven't done any stamping, so there won't be a card post tomorrow. So sorry, but I've been enjoying our beautiful weather!
2.
Is it sad that I get excited about a new pen? My favorites are the Pilot Precise V5 and the Pilot V Razor Point. Recently I discovered a new pen...the Sharpie fine pen with comfort grip. It writes lovely...now if it only came in cute colors :)
3.
Caleb informed me that he needs a computer in his room...he's 3.
4.
Every weekend should be a 3-day weekend :)