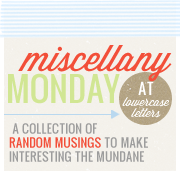 1. Fruit Snacks...yum!
I realized this weekend that not all fruit snacks are created equal. I like Betty Crocker fruit snacks better than any other, especially Kellogg's. Since I've made this discovery I have been sneaking Caleb's fruit snacks and might have eaten them all...maybe. How's that for random?
2. It's time to party!
That is what it has felt like the last couple of months. Everyone is having a party, whether it's a
Tastefully Simple
party (I was invited to two!), a
Pampered Chef
party (I went to one and am invited to another in June), or a
thirtyone gifts
party (that I had to miss over the weekend because I was sick). It must be that time of year to gather things for teachers, summer parties, etc. I've been having fun though...even if my wallet has not :)
3. Summer reading list.
I'm getting together my Summer Reading list. Over vacation I was able to rekindle my love for reading...I read two books. I read Cross Fire by James Patterson and Ice Cold by new-to-me auther Tess Gerritsen (both highly recommended). A few books that I want to read are Crazy Love, Radical, Calm my Anxious Heart, Lineage of Grace, another Tess Gerritsen book (The Surgeon looks good), and Primal (this one has been on my list for a while). If you have any suggestions please feel free to let me know!
4. Choice night...sure!
I made up something called "Choice Night" where the kids get to pick what they want for dinner...from pancakes to a quesadilla. They get SO excited about this and I giggle because I really created it for times when I don't feel like cooking...so really it's a win, win :)