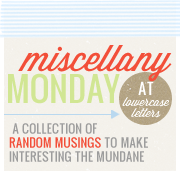 1. May...already!
I can't believe that it's already May...time is going by so fast. Soon school will be out, BSF is almost over, and summer is almost here. It's almost time to get out in the yard and plant flowers (gotta call my gardener assistant...AKA my mom!). I welcome
May
with open arms :)
2. Speaking of May...
HAPPY BIRTHDAY
to my dear friend Kristina! I love this girl with all my heart and I hope she has a fabulous birthday (with plans for an upcoming trip of some kind...I live vicariously through her travels!).
3. Don't underestimate your kids
...that's what I need to keep telling myself. I have to remember that Caleb (and Jamison) is smarter than I give him credit for. Recently we had this conversation:
Caleb: Mommy, when can we go back and see the real Thomas (we went there
here
).
Me: Maybe in September.
Caleb: I have an idea, I can take my trains with me so I can play with them on their tracks (they have a bunch of train tables set up for kids to play with...
side note:
now mind you that Caleb
NEVER
played with the train table we bought him).
Me: But what if another kid takes them?
Caleb: pause...Well I'll just put my name on them.
Me: Thinking...duh!
4. I am determined
...to learn my camera. I recently printed off the entire manual and I plan on reading it and playing around with my camera a lot. I love how
Lemonade Making Mama
and
Mimi
take a photo a day and how it really captures their lives. I don't think I'll do that, but I need to pull my camera out not just when something is going on but just because...to capture the little moments.