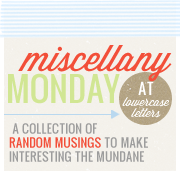 1. It's baaack!

Next to Coca Cola this is one of my favorite drinks and it only comes out this time of year (I've tried to get my local store to order it at other times with no luck). If you haven't tried it you must.
2. My future list maker

...this weekend Rondell and I were making our grocery list and Jamison decided that she wanted to help. I love her concentration and how she organized the list into groups. I guess the apple doesn't fall far from the tree because I love lists! Note: Canada Dry is on the list...I love it!
3. Monday Funny

...have you guys seen the new show on CBS called Mike & Molly? I started watching it at the beginning of the season and it cracks me up every time. I now have Rondell sucked into it and we've been watching every Monday after I get home from Bible Study.