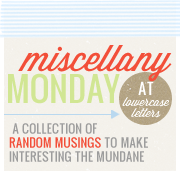 1. I am without a camera at the moment because I left it at a friend's house. I'm going to pick it up today and then I can share Halloween pictures with you (maybe for WW). We had a great Halloween weekend with fun trick to treating and then a fun Halloween party for the kids with some of my friends (that's when I left the camera). Last night we ate candy corn rice crispy treats and watched It's The Great Pumpkin Charlie Brown. Which, have you seen that...they were pretty mean to one another. OK, so I've rambled about 3 things under this 1 number...how's that for random :)
2. I have a question about Facebook...do you ever get friended (yes, I made up a word), accept the friend request and then that person never "talks" to you? This happens to me often where someone will friend me but then they never say anything like "hey, how have you been" or "haven't talked to you in a while"...so it makes me wonder why they friend me. Is it to see my beautiful children (wink, wink), or see if I married that guy from college (yes, for 8 years), or just to see what I'm doing in my life? I just wonder.
3. It's November...NOVEMBER!!! My birthday is just one week away...you know, in case you forgot :)
4. Don't forget to set your clocks back this Saturday night before going to bed...hopefully we'll all be able to get an extra hour of sleep!