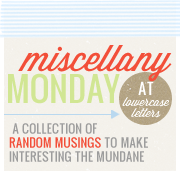 1. Goodbye July.
Hello Friends and Happy Monday. This is the last week of July and I am blown away by that fact. July is our loose schedule month, so this is the last week of late nights and less routine. Even thought July has the loose schedule, we have a few things planned for August...VBS, a trip to Indianapolis, more trips to the pool, & an outing to a baseball game.
We need to soak it all up know because before we know it we'll be doing this:
Jamison last year on her first day of school
2. A pool here, a pool there.
One thing we will continue before summer is over is our pool hop. We did not get a pool pass this year so we have been visiting few different pools this summer. We went to a pool at a local fitness center, a brand new pool in a nearby suburb, and to a friend's pool at her apartment complex. I have one more pool in mind for us to visit and I can't wait...the kids' area of the pool has a little playground.
3. "What's your sitch?"
This is something my friend Katie always says when she is curious about someone's situation. I wanted to say this yesterday while we were waiting at a rest stop to meet my dad and Renee (the kids went to Cleveland and we meet half way to pick them up).
We saw a group of people who looked like they were switching cars, one lady in the car across from us was crying and saying "oh my God" (I was really tempted to check on her), one car was packed full of people and we wondered how they could be comfortable, & on and on. Sometimes it is just fun to people watch.
4. Just a taste...of God's Goodness: