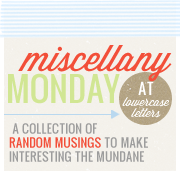 1. No pictures please.

I have not been doing a good job at all about taking pictures. I need to start taking my camera everywhere so that I can get into the habit of capturing the little moments. I love pictures and since it's not in the budget to hire a photographer to hang out with us I need to get myself together. I love looking at blogs that are filled with beautiful pictures (even if they aren't related to the post) and I want to do that here. I also need to work on the pictures for my header so that I can update my blog. I love the headers here, here, and here.
2. Real life inspiration...right in my own "backyard."
This weekend we went to Rondell's cousins' graduation party (Rokia is graduating from college and Ron is graduating from high school). I was so inspired by these two (and if I had my camera I could show you their pictures...sigh) and their parents...both are grounded in Christ, did well educationally and athletically, close with their parents and each other, and just overall good people. I sat with their mom Kim for a bit and told her how much of an inspiration she is as a mother and how I hope my children turn out as well as hers have.
Side note: Ron is going to

THE Ohio State University

to play football...Go Bucks!
3. Quote of the weekend...by Caleb.

After jumping into the pool by himself for the first time Caleb says "I've never felt more alive!" I love that kid.