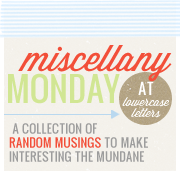 1. When you're really tired

...it doesn't matter where you go to sleep. Here is a picture of Caleb from last week. Rondell actually took this picture but I'm pretty sure he was on time out before falling asleep (this is our time out spot).
He does not get this from me...I can't just fall asleep anywhere. If you remember he's done this before...here.
2. Feelin' the love

...that was part of my recent Facebook post yesterday. I was feeling the love first because I got a free size upgrade on my cranberry limeade at Sonic, then because a sweet friend brought me a jar of strawberry jam. The love feeling continued as I pulled up to my house after church and realized that my mom had been to my house and planted some flowers and planted my flower pots. I felt so special :)
3. The smell of summer is upon us

...in the form of brisket. Our Small Group got together this weekend to kick off the summer with a gathering. Josh smoked two briskets and then everyone brought sides...it was a fabulous meal.
All smoked and ready to eat!
4. Good conversation

...warms my heart. During our Small Group gather us ladies had some really great conversation, with tears and laughter. I adore our group and how much we've grown together...it's been up and down and I love the place we're in now.
You know it's getting good when someone is pulling out Scripture!