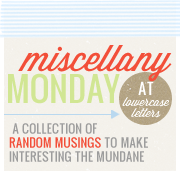 1. Summer, summer, summertime

...is here!!! It officially turned summer last week and I couldn't be more thrilled. I'm not one who loves the heat, but I enjoy the loose schedule, lighter evenings, grilling out, and an occasional trip to the pool/spray park. I'm looking forward to enjoying each moment that this summer brings.
2. It's in the details.

One of the things I'm trying to do this summer to spruce things up around here...here on the blog, at home, with my kids, and even with me.
In my home I'm trying to add little things to spruce things up. I'm taking tips from everywhere (I guess it's time I check out Pinterest), including my friend Katie. She has such a cute and detailed home. Here are some of her details:
I love this cute pitcher, the color of the tea cup and the simplicity of adding lemons to an apothecary jar (am I saying that right?).
I have ideas to add a nice rug to my kitchen or a large clock on my entry wall...simple, yet detailed. I have a trip to

Ikea

planned for the end of July and I'm sure that will help a lot with my details.
3. A picnic of sorts.

One of the things on my summer list to have a few picnics and the kids & I did that the other day on a slightly smaller scale. My friend Lyndsey suggested a new playground to me the other day so Saturday we set out to explore. We stopped at Subway for some sandwiches to have a little picnic before playtime.
This sweet girl loves her Subway sandwiches...pepperoni on Italian with cheese, lettuce, mayo and sometimes cucumbers with a side of apples.
One day I'll get this one to eat:
4. Summer reading.

Another thing we accomplished on the list was signing up for the summer reading program. Our library only does this for kids, but I'm joining in too. I'm already behind Jamison! I have a book on reserve at the library (a Tess Gerritsen book) and I have a book ordered through my church's bookstore (Give Them Grace). I was reading

Crazy Love

, but came across some parts in the book that just didn't line up with what I believe so I had to put it down.
I look forward to packing in a lot of reading time, but at the rate she's going I think Jamison is going to be the winner in our house :)
5. I never would have thought

...I'd be in love with a phone. But I am...this one. When it was time for my upgrade this year I decided to go for a Smartphone. I always get the free phone so I thought it was time to really upgrade. I spent at least two hours in the Verizon store and it came down to the HTC phone and the iPhone (which I was longing for). I decided on the HTC because it fit my needs better...and I love it.
The other night I was playing around with the phone and really discovered how I can make it personal to me...with so many different calendar options, contact options, widgets (like I found one for a word of the day), etc. I think this phone and I are going to be friends for a long time...well, at least until the next upgrade :)
6. It's good to be back!!!

I can't tell you how excited I am to have my laptop back. I have some orders of business I need to get done now, like my new header/layout and setting up my etsy shop. I'll keep you posted on my progress.