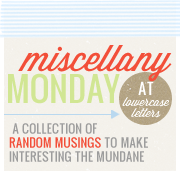 1.
This is my first time participating in Carissa's linky party. I thought I'd try something new and this always looks so interesting. Plus I think Carissa is a sweetheart and would love to support her.
2.
Being at home sick today is not doing well for my addiction to soap operas. I had it down to just Y&R (can you believe the Phyllis is leaving Nick?), but then today...while on the couch I got sucked back into As the World Turns. Why is Holden marrying Molly, why is Katie a widow...who died, is Lily in cahoots with Craig, and why are there so many bad hair weaves? I need this headache to go away so I can get back on the wagon of only ONE soap.
3.
So when you see LOL, do you say "laugh out loud" or "LOL"...I say LOL.
4.
I just realized that Jamison has six more weeks until school starts...SIX. I have to start getting school clothes and supplies pronto. And I also want to make her another bookbag tag like I did last year (see it
here
).
5.
Note: Don't let your child eat lunch before entering a pool. It could result in your child choking on water (like when they put their mouth under and get a little gulp of water) and then vomiting in said pool...and getting the evil eye as the pool has to be shut down because of this. Not cool!
Link up and show us your random...
here
(or click the button that I just discovered how to add!)