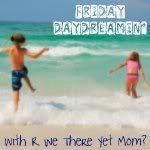 Because of my sweet blog friend
Becca
I get to daydream about the fact that we are able to go to Destin again this year. I know I have talked a
million
few times about Destin on this blog, but I thought I would share again a few of my favorite shots and reasons why I love that place.
I actually enjoy the drive on the way down...all of the excitement & anticipation :)
How can we ever get tired of this view?
I adore the lazy mornings and the sweet bonding moments.
I cherish all of the laughter...and swimming in the (pretty much empty) pool.
Naps!
Sand between our toes :)
My FAVORITE meal...the seafood meal that my mom makes each year.
Hanging out with these 4 is the best part!
See you soon sweet
Destin
!