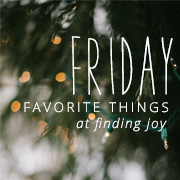 It is clear that I am s.l.o.w.l.y. adjusting to this new routine. I am behind in a lot of different areas, including blogging, catching up on emails AND my walking.
But, I can't focus on being behind...I just need to look ahead, to things for which I am grateful...
The steadfast love of the LORD never ceases;
his mercies never come to an end;
they are new every morning;
great is your faithfulness.
~ I am grateful for this verse
~ Belly laughs while talking to my friend Kristina
~ Watching the Friends marathon on Nick @ Nite...love that show
~ Counting down to the new Fall TV season...I miss my shows
~ PTA meetings (this is my year to start being more involved)
~ Fall soap scents from Bath & Body Works (they have a scent called Pumpkin Caramel Latte that is just yummy)
~ I am excited to be able to participate in the
10 on 10
link party tomorrow since the 10th falls on a Saturday this month
~ Cool temps
~ Opening the windows in my house
~ Chipotle for lunch
~ Making plans to go to the big High School football game tonight
~ Looking forward to another productive, yet relaxing weekend