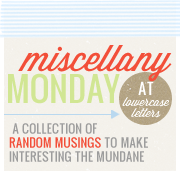 1. Feeling better
...mostly. Thank you all for your well wishes. I did go to the doctor and she said it's a sinus infection, but it feels like more than just that. I have been down & out for over a week. My throat felt so bad that I did even have a Coca Cola for an entire week! Mucinex and ibuprofen have been my friend...along with tons of water.
I am glad to be feeling more like
myself
:)
2. Friends who go above and beyond
...are priceless. Here's some back story. Caleb loves Thomas...like
loves
Thomas. He's much more into playing with the trains than he is watching the movies, but more recently he's discovered Thomas games on the computer. During one of his times at the computer he somehow discovered that there's a Thomas Wii and DS game...
who knew?
It took a while for Rondell and I to understand what he had discovered, but once we did we were on a mission to find the games. We discovered that they are both only sold in the UK...bummer...or not...
In comes my friend Stephanie. I met Stephanie though my friend Lyndsey (they've know each other since pre-school). She and her family live in England and would soon be traveling to the States (to have their second baby!). Lyndsey emailed Stephanie to see if she'd be willing to order the game for us...and she said yes! We found out that the Wii game is not compatible to the Wii here in the US but the DS game is so she ordered that one :)
Let me tell you that Mr. Caleb is in his happy place and has not put the game down very often. Thanks Stephanie!
In addition to my friend Stephanie...
my blog friend Kelly
is another friend who went above and beyond. I recently discovered a box in my porch (don't you just love that...unexpected packages) and I opened it to find a beautiful note and this gorgeous tile...
I recently saw this on her blog and fell in love...with both the tile and the verse. It was SO thoughtful (I love thoughtful) for her to send it to me and it is something I will cherish for a long time. Thank you Kelly :)
3. Level 9
...my sister. My sister Toshianna was just moved up to Level 9 in gymnastics (after that it's Level 10 and then Elite on the road to the Olympics!). She had her first competition at Level 9 this past weekend at the Arnold Classic and did wonderful. She made it to the finals on bar and her Team won #1 overall. I am SO proud of her :)
4. Powerful words
...I saw this quote on Facebook and just had to share because it really resonated with me...
Worry looks around, sorry looks back; faith looks up.
5. Cookies
...R Us. That's what you should call us. On Saturday we picked up our 423 boxes of Girl Scout cookies. I wondered how we were going to store them all until we could deliver them, but they fit nicely in the corner of our dining area. Here's my Scout in the midst of all of our hard work...
Rondell took the bin that she's standing in to work today filled with cookies.
I love how the boxes had cute little messages on them...
Thin Mints were by far the top seller.
Happy Monday :)