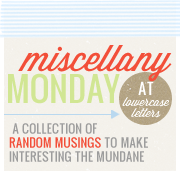 1.

Where does the time go?

Seriously, I can't believe that it's already Monday and that we're 1/2 way through December. I still have a lot of shopping to do and I need to figure out what to get Jamison's teacher because I love her! How is your shopping coming?
2.

Historic tree.

You must, must check out my friend Katie's Christmas tree. She posted about it here. I love all of the details that she added and I am amazed that she has so many things from her ancestors.
3.

Stirring tool.

So I saw this tool on an infomercial the other night and first I thought "what is the world coming to?" They were selling this tool that you stick in your pot or bowl that will stir for you. I was thinking that we are becoming awfully lazy that we can't stir our own ingredients but as I thought further I guess it's not much more than using a standing mixer. Random!
4.

Cookies!

My friend Lyndsey's cookie exchange party was a lot of fun, as usual. This year a lady made a maple/bacon cookie that she called the McGriddle (Caleb and Rondell loved this one!). I didn't take my camera this year, but there was a nice spread of cookies...such a variety. This is a party I will look forward to every year.