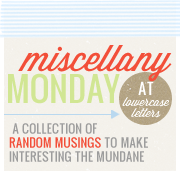 1. One of these things is supposed to look like the other

...People say all of the time that Rondell and Caleb look just alike and I just don't see it. Their heads are shaped differently as well as the shape of their eyes. I don't know...they just look different to me. What do you think:
2. We are family

...This weekend my mom and Aunt Roni came over for dinner and to help decorate our tree. The kids haven't seen Aunt Roni in a few weeks and they were SO excited to have her over for a visit. They stuck to her like glue almost the entire time. She read them a book, helped wash their hands and just played with them...it was like old times. We all miss having her around on a daily basis.
3. Say my name, say my name

...Since my name is spelled differently I love to find things with my name on it. Michaels sells ornaments every year and they always have an ornament with my name on it so I must buy one each year. They give me the warm and fuzzies:
4. It's beginning to look a lot like Christmas

...Our tree is up and the ornaments are on! All we have to do now is put up some lights outside and we'll be done. To add to the overall picture we woke up to about an inch of snow this morning...not my favorite thing by any means but it does add to that Christmas feel.
5. Did I leave you with any songs in your head?