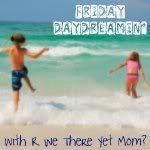 I'm joining Becca again this Friday as I ponder friendships and reminisce about the last trip with some of my dearest friends (minus Melanie).
Me, Tanysha, Anita, & Tara (sorry for the bad picture quality)
Here's Melanie...she was there in spirit.
These girls are so dear to my heart and I miss them terribly (we all live in different cities now). We have all been friends since our younger years (Anita, Tara & I have been friends since middle school and Tanysha joined our posse in high school. And Melanie and I have been friends since THIRD GRADE!).
In 2009 we all got together in Atlanta. We saw the sights, ate good food, played Uno, and laughed endlessly. There's nothing like girlfriends who love you unconditionally!
This picture reminds me that it's time to plan for another trip :)