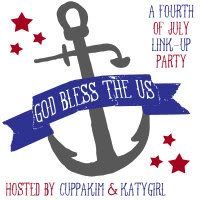 I'm joining CuppaKim & Katygirl today in a
4th
of
July
link up :)
For the last couple of years we have gone to a local parade with friends in the morning and then later in the afternoon we would go to our church which used to put on a huge carnival-like event and then everyone would watch the fireworks that were set off close by.
Last year our church decided not to have its big event and we decided to stay home. At home, we realized that we could see a local fireworks show perfectly from our driveway (like we could see them well AND hear them!). We said then that we should have a get together for the 4th and then watch fireworks from our house.
This year we invited a few neighbors over for some fun, food, and fireworks. We started small this year because 1. it was our first year to have this gathering and 2. we had just gotten over having serious power outages (us included) in our area and we didn't want to go all out since there was the potential of the power going out again.
It ended up being a good time.
There was a water balloon fight!
My husband...the Baby Whisperer...lovin on Miss Lily.
We let off some smoke bombs and firecrackers.
One of my neighbors gave us some huge sparklers...those were a lot of fun.
Thinking cool thoughts as we waited for the fireworks to start...it was 100* that day. It was a really good show...sorry no pictures :(
Overall we had a great time and can't wait to do it again next year!
*
BONUS
*
I was supposed to make these cookies on the 4th but my neighbors brought a lot of desserts to I didn't end up making them. I made them yesterday for a cookout that we attending and they were a hit! I saw the idea
here
and just used break and bake cookies (because that's how I roll). You should try them...like right now!